EduCyber gets non-profit organizations. We understand the various needs of non-profits and rather than trying to force a non-profit into a certain mold, we custom-tailor Non-Profit Websites to meet your specific needs.
Some of the features that we often are called upon to add to a site include:
Sponsor a shooter (sporting clays)
Viral Card Campaign (view details)
Customized donation method
Adding ecommerce in order to purchase events or sponsorships
Integration with 3rd party programs (like customer relationship management software)
RSS feeds
Calendaring and calendar feeds
Ad serving applications
Event tracking
Donation tracking
Team management (for events where participants pay and are added to teams)
Animal tracking (for animal shelter)
Member management software
Whether a solution already exists or we need to build it for you, we help you get the best solution for your needs.
Non-Profit Websites Toolkit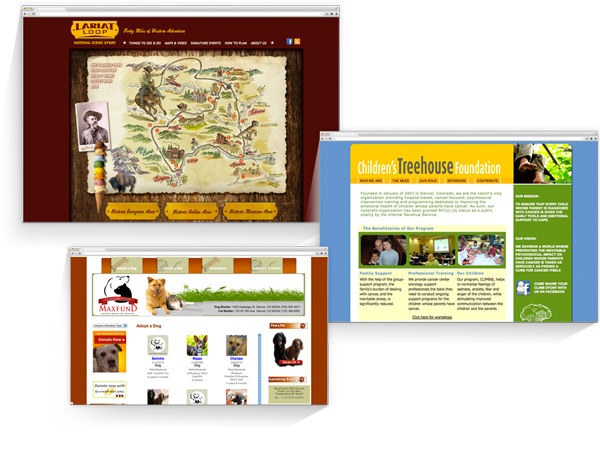 Like any toolkit or toolbelt, each user has their own tools and their own favorites.
Some of the tools you might want for your toolkit include:
Card Campaign – turn those simple donations into viral giving. Each donor can honor someone with the donation or even invite others to donate.
Sponsorship Campaign – Whether your big event is a bike ride, a clay shoot or some other type of competition, our sponsorship app makes it easy for each participant to reach out to more donors.
Event Management – We customize your event tool to your specific needs. Have a mix of free and paid events? We can help. Need some events to have RSVP and others not, we can handle that. Think you have event needs we can't handle? Call us. We can handle it.
Member Management – need to track members? Need to have members join or renew online? Need to see reports on what members you have and at what level? We've got you covered. Our custom developed member management tool will be tailored to your specific needs and be scalable so it can change and grow with you.
Donor Management – Whether you have a preferred software that we need to integrate with or want a custom donor management tool, we have the customized solution to meet your needs.
Mapping Tool – we do lots of custom work. One tourism-based client had a glossy brochure. We asked for zip / postal codes of visitors in order for them to download the brochure. All codes are then plotted on a map on the backend so the client could see where the downloads were coming from.
Online reservations – Whether it be individual rooms at your facility or even parks you manage, we have a tool that lets folks reserve and pay for the reservation online.
Member Directory – let your members build their profiles and determine what part of their profile should be available online.
Schedule a Tour – whether you are looking to get new students, new donors or just raise awareness, our tour scheduler app can engage your visitors and help you capture them as customers or donors.
Build a Trip – Need folks to stop by more than one sponsor or member? Our trip builder app is a great way for folks to add all the places they want to visit and then get turn by turn driving instructions to visit each one.
API Integration – Do you already have a donor management tool such as etapestry or customer relationship management tool like Sales Force that you're using? Our team can integrate the usage so you get better and more data in your existing system.
Integrated Newsletter Tool – Turn your posts or articles into items that automatically flow into your newsletter, saving you time and keeping you from having to duplicate efforts.
We've done sites for:
Business Associations
Chambers of Commerce
Animal Shelters
Tourism Organizations
Foundations
Scenic Byway
Industry Associations
Churches & Schools
If you don't see your industry listed, that doesn't mean we can't help you. Contact us to find out if we have a solution that meets your needs.
Learn more about the web technologies we use
Call 303 268-2245 x4 to see if we can help you reach your target audience more effectively. Or fill out our website questionnaire to get started, and we'll contact you!