There are lots of things you can do for your business right now. But the single best thing you can do right now is laugh.
Yes, I mean it.
I was kind of freaking out when this all started. Business – new leads and new projects ground to a halt.
Or so I thought.
But the entrepreneurial spirit of America is alive and well.
Over the Easter weekend, I spent a lot of time with family. We laughed. A lot. And Monday morning I started fresh. I posted a blog about working from my basement and steps to keep engaged. And it worked. Folks reached out and, just from that blog, I began to get leads. And I would not have written that blog had I not spent time laughing.
And there is much to laugh about – not at others although I have seen some pretty funny stuff like the woman in the UK that took her device with her to the bathroom not realizing everyone in the meeting could see her – especially if you step outside of yourself and the crisis for just a minute and look in.
A couple of days ago I was on a zoom call and had set a background (I have a black curtain behind me). I happened to be wearing a black t-shirt with "I am Groot" in white lettering. This is kind of fuzzy but here is a screen capture of it: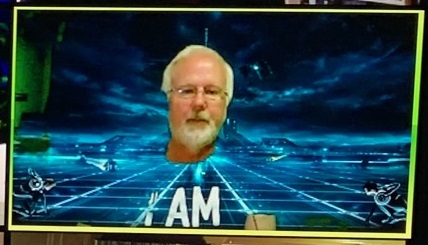 I don't know – what do you think? I think it looks kind of funny.
But whether you think that is funny or not, laugh a little. Then pick up the phone or hop on a screen share and talk to someone. Talk to a customer, a vendor, a colleague. You will be surprised to see how the conversation turns out after you have laughed.
Oh and as states and counties begin to open up, keep laughing. This is good advice for post COVID-19 just as it is for during. You will find you enjoy people more and they will find they enjoy you as well.