We are here to help. If you need help with something on your site, our strategic digital marketing will help you connect with your visitors. Based in the Denver area, we offer web design, web development, web hosting, web maintenance, and a variety of other services tailored to your specific needs.
Whether you are looking to take your site to the next level, launch your new brand, build a complex database-driven application, or looking for help with your digital marketing and inbound leads experience, we can help.
On the front end we have a top notch design team that gets the look just right – both for you and for your customer. We use the depth of our experience and understanding of Graphical User Interface (GUI) to craft a look and feel that not only looks just right, it also moves customers towards the goal – whether it be to fill out a form, purchase online or pick up the phone and call you.
On the back end our development team builds a variety of applications harnessing the power that WordPress has to add new and innovative functionality that drive our customers' businesses. In between we have Search Engine Optimization, Pay Per Click, Social Media setup and consulting, retargeting and more.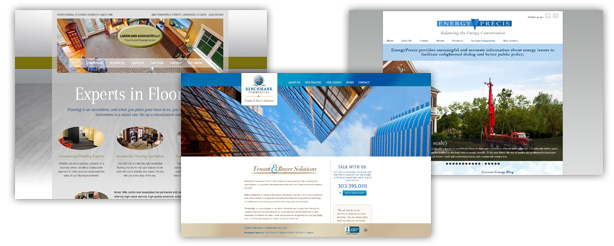 Why do we focus so much on Strategy and being strategic? All too often we see clients jump into a project wanting to implement the latest tactic they learned from a seminar or class without really having a clear strategy for how that tactic fits in to their business plan.
So with our strategic digital marketing insight, we don't just implement tactics willy-nilly. We work with you to integrate each component of a plan into a larger whole so that your site will actually complement your business and help you grow.
We help you reach your ideal customers. First you need to clearly understand what channels you are going to use.
Strategic Digital Marketing Channel options:
Your web site. This is ALWAYS the core of your digital strategy.
Google My Business (GMB) and other business outlets. Google in particular is using GMB so much that many folks don't even get to your site, finding the info they need on GMB – so it should be a part of just about any campaign.
Social channels. Depending on your strategy and goals, it could be one or more of these: Facebook, Twitter, YouTube, LinkedIn, Instagram or the newer social channels such as Gab, MeWe, Parler, and Rumble.
Paid ads. Often this means using Google Ads. But that isn't the only option. Again, depending on your strategy it may be that you want to run paid ads on a social channel. Or on a video channel like YouTube or Rumble. Or perhaps your ideal customer is listening to music or podcasts so you need to have ads there.
If you have an actual product, it might be appropriate to run ads on sites like Amazon or eBay or any of the other sites that sell things.
Email Marketing. This channel is not as effective as it once was due to over-saturation but if your ideal customer is one of the folks that reads targeted emails, then this is a good channel.
Content Marketing. Most folks overlook this key channel. It simply comes down to putting the right content on your site for the right reasons. The right content, with the right keywords, tells search engines like Google what you do so they can send more traffic your way.
Search Engine Optimization. While Content Marketing is a component of SEO, there is a lot more to it – at least for the strategic digital marketing firms. You want to address SEO in the structure, in the content, behind the scenes and even off-site.
Select one of our services from the menu to learn more or, if you're ready to get started, give us a call today at 303 268 2245.