In the Internet world, Big Data is a big buzz word. With the right tools huge volumes of data can be digested, analyzed, and summarized with amazing speed. Technology like this is what is driving technical inroads in an array of industries from understanding the human genome to making digital currency like Bitcoin to understanding shopping patterns of given demographic segments.
But what about Little Data? Your little website. It may not be as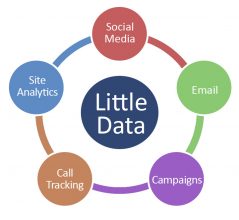 big as Facebook or have as many visitors as Amazon or Walmart but there is still an incredible amount of data that is available from your slice of the Internet. So how can you turn little data into a big benefit?
Email tracking
Every mass emailer (aWeber, iContact, MailChimp, Robly , etc) has a variety of tools that can help you track the effectiveness of your email campaigns. Some of the key metrics you should look for include Total Opens, Unique Opens, Unique Clicks, Click to Open Rate, and Device type (responsive)
Social Media tracking
You can track just about everything with social media. Some of the key things that will be of value to you though include: how many visitors to your website you got from social media, how many friends, followers or fans you have on your profile or your company profile, how many shares or views your posts or articles got and so much more
Site analytics (Google Analytics or some other analytics package)
What started off as a way to track the number of visitors has now become a very sophisticated way to track any number of activities both on your website and prior to arriving – and even after leaving for that matter. You can learn what your visitors do, what devices they use, how fast your site is, create funnels and track actions
Call Tracking
There are a variety of services that you can set up that will help you to track where your calls are coming from – from a specific landing page for a specific campaign, from a social media campaign or even from a print campaign
Campaign tracking (with specific landing pages or domains)
You can create custom urls or even custom domains to run and track specific campaigns. Running an end of the year campaign to boost sales? You could have a special url (sometimes called a purl for personalized url) like http:// <your-domain>/christmas and track all the clicks to that link.
So even with Little Data (the data that you have available to you on your little slice of the internet) you can harness the power of Big Data and get a much clearer picture of what is actually happening. You can then design a specific plan to get that traffic to take the action(s) that you want them to – whether it be make a purchase, fill out a form, make a phone call, sign up for a seminar or some other factor that is part of your conversion process.
Need help figuring out how to do this for your site? Call us at 303-268-2245 ext 4.