Inbound Leads or Inbound Marketing.
Those two terms are buzz words. Everybody wants a good inbound lead – much better than an outbound lead.
But what is it? How does it work? Why do you need it?
In a nutshell, inbound marketing is attracting people to your organization rather than you going out to meet them.
How does it work?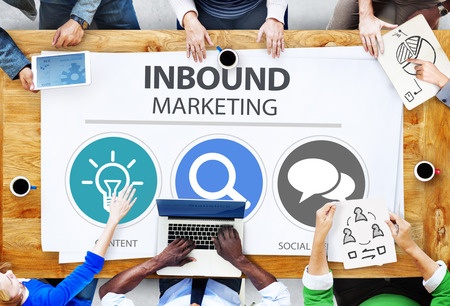 The most well-known strategies are digital marketing campaigns like blogging, search engine optimization and pay per click. Over the last several years, social media marketing has also grown very prominent as a way of driving people to you or your website.
The concept of an inbound lead is very attractive. You don't "do anything" and the lead comes to you. But the truth of the matter is that it takes a lot of work to generate an inbound lead. A LOT. First you have to have a web site that is tailored to handle inbound leads and that requires careful planning and thoughtful design.
Next you need to have a plan about how you are going to generate those leads. I STILL hear from organizations that say "We tried social media but it didn't work." When I ask what their plan was, I'm met with silence. If you don't have a plan it isn't going to go well.
Your plan for generating those leads will likely include two or more of the following:
Content Generation: You need to create ORIGINAL CONTENT. Copied from your industry email or a partner's website isn't going to help much. You need to have original content that is exclusive to your website / social media.
Search Engine Optimization: While content is king in SEO, there are other things you can do to both optimize your site for search and provide good reasons for other good sites to link to your content which helps with SEO.
Pay Per Click Search Campaign: The two main targets are Google and Bing but with the right strategy, you might be able to target a lesser search engine that your target market is known to use. A good PPC campaign, together with good SEO can place your site front and center for the right keywords, allowing you to dominate the landing page.
Social Media Campaign: You need a clear plan for who you are targeting and why. With this clarity you can determine which media to use. Facebook is the largest forum but might be the right forum, especially if you are in the B2B world where using LinkedIn might be better. But the list of social media sites you can use is large and ever changing: Facebook, LinkedIn, Twitter, Instagram, YouTube, Google+ and Snap Chat are some of the most well-known but the list is much longer.
Video Campaign: While technically video is content and belongs with content generation, it is unique enough we break it out. Video blogging can be very effective in the right context. Or as anyone who has every watched Super Bowl commercials can attest to, humorous or quirky videos can attract a lot of eyeballs which can translate to lots of visits and then to new clients.
If you or your organization are ready to build your inbound leads and aren't sure how to proceed, give Brian a call at 303-268-2245 ext 4.