A decade ago, social media was fun. It was new. It was fresh. Perhaps even exhilarating. But now we live in a strange new world of social media where jumping to conclusions, imputing opinions falsely and disparaging anyone who disagrees with your politics or religion or race, or even gender is the norm.
With the recent disturbance in Charlotteville, Virgina, the mob (on social media) incorrectly identified one of the participants in a picture as being from Arkansas. And they unleashed on him, publishing his home address and calling him all kinds of vile things. Only they had the wrong person. When his employer – the University of Arkansas – pointed out they had the wrong man, many still refused to back down.
We have a client in the Denver area who received a bad review from someone in Seattle. It turns out the someone in Seattle had a bad experience with a similarly-named company in the Seattle area. We actually helped them reach out to the individual so they could correct it. Guess what the response was? That person was so enraged at that other company and too busy to be bothered to find the right place to complain so they refused to take it down. Yes, they understood they were complaining about the wrong company but they wouldn't take it back. That would be like going to McDonald's and picketing because your Whopper wasn't prepared correctly. And refusing to stop picketing even after it is pointed out that Burger King is a couple of blocks away.
But what to do? Your marketing team is telling you the company needs a strong social media presence. Can you navigate social media and survive? There is no cure for stupidity as the examples above show. But there are many things you can do depending on your brand, your audience, and your message.
Don't be afraid to be sassy if it fits with your image AND if the medium is right. Wendy's made their mark on Twitter by being (for the most part) funny but also pretty sassy: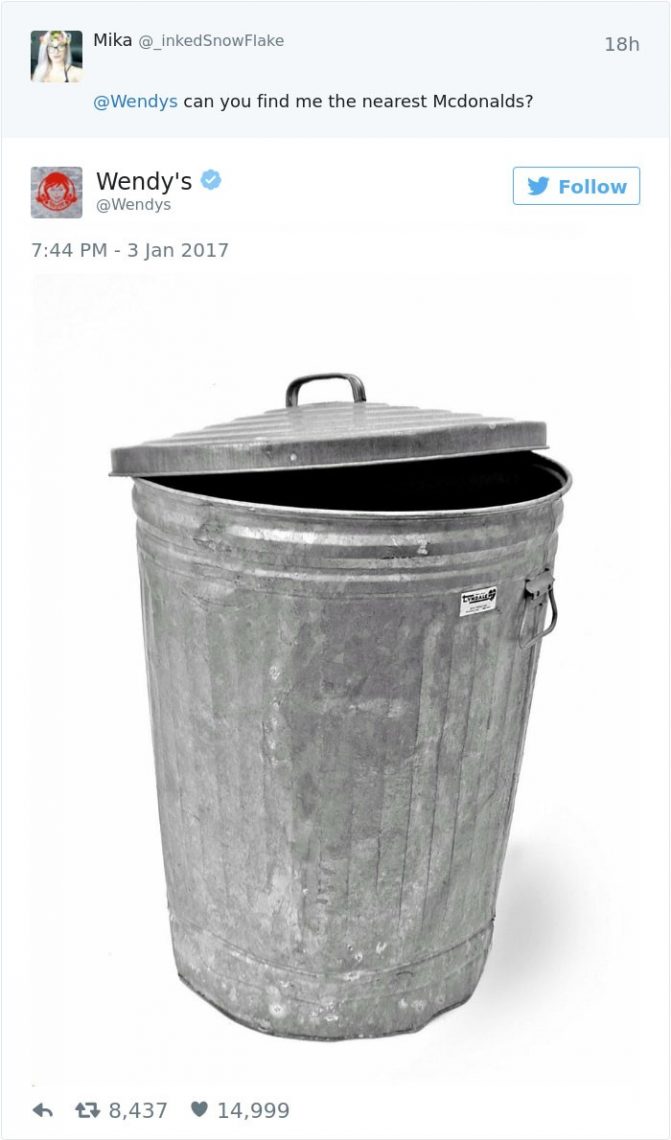 But beware – you have to finesse this just right or you will get roasted.
But that is probably a bit too aggressive, amusing though it may be, for most of us. In a B2B (Business to Business) environment, establishing your company or your brand as the thought leader can move the needle in your direction. Two ways you can do this are
Post original content and
Share other good content.
Number 1 is the sexy answer. And a lot of folks seize on it – "Yeah, we'll post one a week, maybe even every day!" and follow that regime religiously for a week or two. It takes more than a week or two to establish yourself as a thoughtful thought leader.  The easiest, by far, way to proceed, is to put into writing one or two of the conversations you find yourself having with clients or prospects each week.  That is, in fact, why I'm writing this right now. Had "the social media" talk several times over the last few days. By sharing, and sharing consistently, people know who to turn to for help and more importantly, you stay in front of them so they don't forget who you are!
In a B2C (business to consumer) business, the obvious medium is Facebook. And it can be a great tool to get the word out.  The good news is that Facebook is working to stop clickbait (headlines that entice you to click the link only to be spammed with something other than what you clicked on or simply stupid stories) which is very annoying for users.
How can you use FB in a good way? Several quick tips:
Create (or review) your FB company page. It is still changing. Fill out as much of your profile as makes sense – the more the better
Get some happy customers to write reviews on FB for you
Add pictures and, if at all possible, videos
Post regularly. Some can be specials or products or events but some should just be fun. "Here is what we are doing the office today" along with a picture of a fun staff or customer event.
Social media is a great tool to connect with people in ways that weren't available a few years ago. Instead of having the communication be one way – from the company to the target audience, there is an opportunity for that audience to respond.  So be prepared for the responses, keep your sense of humor, and keep it real by showing the human side of what you do.