Does your site load on people's computers quickly? If it doesn't, does it matter?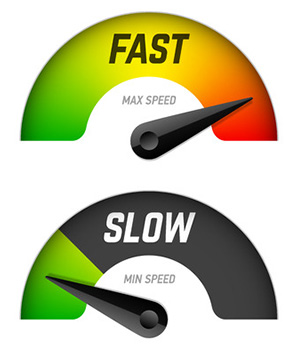 The answers to those two questions are "It better be fast" and "It absolutely matters".   There are two main reasons:
User Interface. If users are waiting and watching the spinning circle or other indicators that the page is loading but it hasn't finished, they leave.
Google rewards fast web sites with better, higher rankings. Not just Google of course but since Google accounts for 75% of searches, we'll just say "Google".
So what can you do to tell if your site is fast? We have two answers for that as well:
Google actually tells you how fast your site is and gives tips on how to make it faster. Visit https://developers.google.com/speed/pagespeed/insights/ and enter your domain and see what Google says about your site.  It is a good idea to visit on a regular basis – monthly or quarterly to make sure that nothing has changed either on your site or how Google views your site.
There is another great, free tool https://gtmetrix.com/ that lets you see the speed and uses several other tools to help you understand what is happening on your web page. One of the biggest issues we see with this tool is that images aren't optimized well. The cool part of it is the tool provides you with the optimized version of the image in question. No more trying to guess what it means.
So take some time to check out your website today. Use both of the tools above to check not just the homepage but also other key pages on your site. Just because you get the home page to load quickly doesn't automatically mean other pages will.
Just as I wrote this article I found that one of the plugins we were using had "gone rogue" and was lowering our score for page speed. That plugin is gone and we're back to fast loading pages.
The tools will help you measure the speed and once the tools say your pages are loading fast, you can go back and work through your site from a customer perspective and verify that they are indeed going smoothly and quickly.
And of course, if you would like assistance in speeding up your page or pages, call us at 303-268-2245 ext 4 and we'll get the ball rolling.