So what does it take to "take your site to the next level"? Whether you have a new web site or are looking to get a new site, there are several things you can do that high converting websites do. What are highly converting websites? Ones that get people to take action – fill the funnel like this: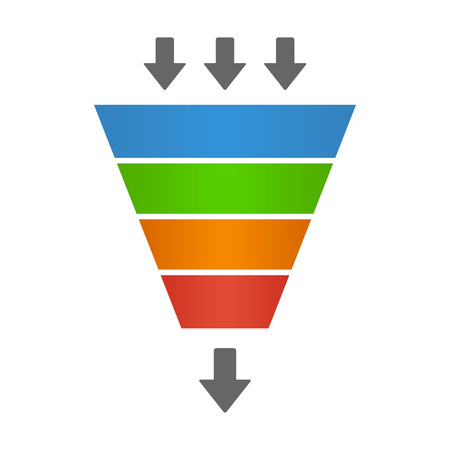 Here are the strategies we recommend for highly converting websites:
Make your unique value proposition clear.
Your business is unique. Why do people choose to do business with you? Why do they choose you over other choices? What sets you apart in your industry? The clearer you are on why people choose you, the more the right kinds of people will respond via your website.
Test Calls to Action and use just one
Unclear or confusing calls to action on your website can kill your business. Determine what you want people to do and make is crystal clear on the site what that is.
It sounds so simple. And yet I had one potential client tell me last week that his NEW website doesn't have a call to action. Yep. That is the case. He paid someone to build a website for his business but there is no next step for users to take.
Test your headlines
The words that you use on your pages matter. If you are getting traffic to a page but no conversions, try changing the headline or headlines on a page. Sometimes changing one word on your website can make a big difference. Imagine a used car parts online store with the words "Satisfaction Guaranteed" displayed prominently on their site. Satisfaction is fuzzy. What does that mean? Not clear. Change Satisfaction to Money-Back though and now I, as a potential customer, have a very clear concept of what happens. I can buy this part and if it doesn't work, I get my money back.
Use short forms
If you are trying to build your email newsletter subscribers, don't ask for the mailing address. The only thing you really need is the email address. If you're going to add fields so it can say, "John, check out this sale" then you might want to capture the first name or simply have a name field. Only ask for the information you need and you are much more likely to get conversions.
Use trust symbols
While they may be legally required to do so, it does give us comfort or increase our trust when we see or hear a bank commercial that includes something like "FDIC Insured". This is a signal that this place is legit. You can do the same thing on your website, even if you aren't a bank.
You don't operate in a vacuum. Demonstrate that to the world. What organizations do you belong to or what certifications have you attained that show visitors they can trust you? Consider industry specific groups or chambers or other business organizations if you are in the B2B realm. If you are B2C, consider things like the Better Business Bureau or a seal from your ssl issuing company if it is an ecommerce site. If any of these groups or places have logos that you can use, they provide great visual cues for the trust you deserve.
How many of these strategies are you already using? If you are using 4 or 5, congratulations! You probably already have a high converting website. If you are using 2 or 3, kudo's to you. You are taking some good steps towards making your site help your business. But if you want more, contact us and we'll help you explore what can be done. If you are using only 1 or perhaps none of these strategies, stop. Pick up the phone. Call 303-268-2245 ext 4 and tell us you want help getting your site to convert more.