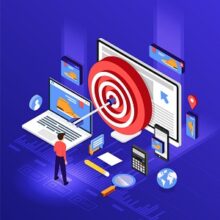 You need to set goals for digital marketing early in the process – not after you have created campaigns or begun implementing tactics. You should consider what you are trying to accomplish – what is the desired outcome of your digital marketing. Of course, for most folks, that is either more business or more leads.
What are the Benefits to Set Goals for Digital Marketing?
Setting goals is a great way to keep track of your progress towards reaching your business objectives. It helps you stay focused on your overall strategy by giving you something tangible to work towards. You can also use it as an opportunity to evaluate where you stand against your competitors. If you're not sure if you're meeting your goals, then setting new ones will help you figure out where you need to improve.
Setting goals allows you to see your progress over time which makes it easier to measure your success. This gives you more confidence in your results and increases your chances of achieving them.
It's important that you don't set too many goals at once because this could be overwhelming. The best approach is to break down your big goal into smaller, manageable tasks. For example, if you want to increase sales, start with one small task like increasing your social media following or email list size. Once you've completed these smaller tasks, move onto another one.
You'll also find that setting goals will motivate you to achieve them. When you have a clear objective in mind, it becomes much easier to focus on the things that matter most.
Setting SMART Goals
SMART stands for Specific, Measurable, Attainable, Relevant and Time-bound. These five elements make up a good goal so let's look at each one in turn:
Specific – Your goal should be specific enough to give you direction but broad enough to allow room for growth.
Measurable – Make sure your goal has a metric attached to it so you know whether or not you're making progress.
Attainable – Don't set yourself unattainable goals. Think about what would happen if you didn't meet your goal. Would you feel disappointed? Or maybe even angry?
Relevant – Be realistic about your goal. Is it really relevant to your business?
Time bound – Make sure your goal isn't open ended. Give yourself a deadline to hit your target.
If you're struggling to come up with ideas for your goals, here are some examples of common digital marketing goals:
Increase website traffic (e.g. Facebook likes)
Increase brand awareness (e.g. Google rankings)
Increase conversion rate (e.g. signups)
Improve customer service (e.g. feedback scores)
Increase sales revenue (e.g. number of products sold)
Now that we've looked at the benefits of setting goals, let's take a closer look at how to go about doing it.
Step 1: Define Your Goal
The first step in setting goals is to decide exactly what you want to achieve. Start by thinking about your business objectives and then ask yourself the following questions:
Is my goal attainable?
What do I want to achieve?
How will I know when I've achieved it?
What does my ideal future state look like?
Once you've answered all three questions, write down your answers. Now you have a clear idea of what you want to achieve, you can move on to the next step.
Step 2: Write Down Your Goals
After deciding on your goal, write it down. If you don't already have a list of goals, start now! Here are some tips to ensure you make the most of this process:
Start small. It's tempting to think big, but starting off with smaller goals will help you build momentum.
Break them down into milestones. For example, instead of saying "I'll increase my social media presence", say "I'll post more content on Twitter".
Add deadlines. Setting deadlines helps you stay focused and motivated.
Once you have your goals and milestones written down and assigned deadlines to them, you're ready to move on to the next step.
Step 3: Identify Key Performance Indicators
Key performance indicators or KPIs are measurable metrics which show whether your goals are being met. The best way to identify KPIs is to use data analytics tools. These allow you to measure success against specific criteria. Some of the most commonly used KPIs include:
Website Traffic – How many people visit your site per month? What pages get the highest traffic?
Social Media Engagement – Are users engaging with your posts? Do they share your content?
Customer Feedback – How satisfied are customers with your product or service? How much positive and negative feedback do they leave?
Leads / Sales Conversions – How many leads did you generate last week? How many of these went on to become customers?
As you can see, there are lots of different ways to measure success. You may choose to focus on one metric, such as lead generation, or combine several together. Whatever method you choose, be consistent. Once you set out to track key performance indicators, stick to it. Don't change your strategy mid-stream if you find that one metric isn't working as well as you thought it would.
Step 4: Measure Progress
You should always keep an eye on your progress towards achieving your goals. This means measuring your success regularly. To do this, you need to assign a percentage value to each KPI.
For example, if you want to increase your website traffic by 10%, you could simply multiply the number of visitors you had last month by 0.1. So if you had 100 visits last month, you'd expect to receive 110 visits this month.
If you're not sure how to proceed, here are some examples:
Increase Website Traffic by 20%: Multiply the number of visitors you received last month by 1.2. So if you had 1000 visitors last month, you'd receive 1200 in the following month.
Increase Social Media Engagement by 50%: Multiply the total number of likes, comments etc you posted last month by 1.5. So if you had 3000 likes last month, you'd have 5000 in the following month. Remember to take into account any changes in activity over time.
Improve Lead Generation Rate by 25%: Multiply the amount of leads generated last month by 1.25. So if you had 500 leads last month, you'd generate 750 in the following month. Again, remember to take into account any fluctuations in activity over time. If you're looking to improve your conversion rate, you should use a tool like Google Analytics to monitor your conversions.
Step 5: Adjust Your Strategy
Once you've measured your progress, you'll know what needs to change as you set goals for digital marketing. For instance, if you found that only 1% of your leads converted, then you'd know that you need to work harder at generating more leads.
So now you know exactly where you stand, you can decide whether you need to make adjustments to your marketing plan. Maybe you need to spend less money on advertising or invest more time in social media promotion. Whatever the case, once you've decided which areas you need to adjust, you can start implementing them.
Conclusion
Digital Marketing is the process of promoting products and services digitally through online channels. It includes email marketing, search engine optimization (SEO), content marketing, social media marketing, influencer marketing, display advertising, web development, mobile applications, and much more. The ultimate goal of digital marketing is to promote your product or service in some online fashion. To do this well, you need to set goals for digital marketing.
Learn more about how EduCyber can help with your Digital Marketing