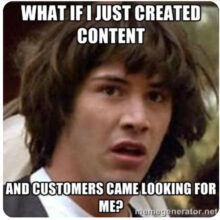 There are a lot of artists out there. They love to create beautiful campaigns that look and feel marvelous. Sometimes you will see a post or part of a campaign that makes you laugh out loud. That too is a good part of the art.
A picture is indeed worth a 1000 words and some of the best pictures make for artistic digital marketing that takes your breath away. And a video? Well if a picture is worth a 1000, a video is worth far more. Some of the most artistic digital marketing campaigns move you to like, share and comment.
And if digital marketing were a popularity contest, that might be enough.
But bringing in a bit of science to help you with your digital marketing campaign can actually help your business grow.
You remember back in science in high school? You create a hypothesis. Then you do a test. Then you measure the results. Then you draw a conclusion based on that and from there you can create a new hypothesis and let the science keep rolling.
How does that work?
Hypothesis:
If I create one blog every two weeks for twelve weeks around a new product that we make, and strategically share that on social media I've identified as platforms the target customer uses, I can increase sales 10%
Test:
Create six pieces of content, keeping it short, interesting, and using images  that are not stock images. Post one every two weeks to your blog, share on identified social sites, tagging others and using hashtags as appropriate.
Measure / Evaluate:
Well we found that posts where we focused on our clients got the most interaction and we actually generated three leads as a result of those two posts. We've already converted one. One is a bit dicey and likely won't convert but the other is in the funnel and looking good.
Conclusion:
It seemed like the posting frequency was just about right and it really helped to have it all planned out in advance. If we can sustain this program, our sales should increase between 11 and 15% over last year.
That's one example of how you can conduct a digital marketing campaign with science. What all was used in this example?
Content Marketing – creating unique content and posting it to a blog
Social Media Marketing – posting to social media websites using tags and hashtags to engage others
Conversion Rate Optimization Marketing – determining a conversion rate based on number of interactions that actually turn into business
Other types of digital marketing that should be considered:
Search Engine Optimization
Paid Search Campaign
Email Marketing
Paid Social Media Marketing (similar to paid search campaign)
3rd Party Marketing (placing your ads / links on other websites)
Mobile Marketing (includes many of those above plus texting)
Affiliate Marketing (using influencers to promote your business)
The art of digital marketing is an important component but the science of digital marketing should not be overlooked. Over the last couple of years the phrase "follow the science" has been overused and abused. But integrating science into your digital marketing outreach is important if you want to be successful.
Remember, if you don't know where you are going, any road will get you there. If you take the extra steps beyond the art of digital marketing to get to the science, you will actually be able to measure success as a phase of the campaign ends.
If this all sounds great to you but you aren't sure where to start, we can help. Call or Fill out our contact form to get started.