Have you looked at the stats for your web site lately? If you haven't you should. There are two sets of statistics I recommend looking at. One is the stats from your web logs – we like to use AWSTATS as they provide a nice overview of stats but also allows you to drill down to specifics very quickly.
The other set of stats is Google Analytics. By using both GA and AWSTATS, you can get two different looks but also keep in mind that they should be fairly similar. Why two instead of one? Mainly to "keep them honest" in making sure they are indeed close to the same. But also because sometimes one look will give you an insight that you may not notice with the other look.
Some of the stats to look at include: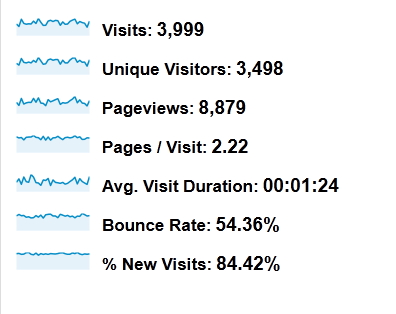 Unique Visitors – how many unique visitors do you have coming to your site on a monthly basis? The goal is always to keep that number climbing and is the goal of Seach Engine Optimization campaigns.
Pages Viewed – which pages on your site were viewed. If your goal is to get people to complete checkouts, for example, you'll be happy if the checkout page is getting viewed a lot and if it isn't that can give you some insight on which pages you need to check on.
Browsers – this stat is increasingly important as the variety of mobile browsers continues to explode. If you see lots of Android or ios views, you'll want to pay extra attention to how your site looks and performs on mobile platforms
Traffic Sources – this stat helps you see how people get to your site. If you're running an SEO campaign, you'll expect to see lots of organic search traffic. If you're running a paid search campaign like Google AdWords, you'll be looking to see lots of Google paid visits. And the list goes on through Facebook, and a variety of social media sites as well as direct visits – folks who already know you and your brand.
Search Keywords or Key phrases – this stat shows what your search traffic was actually searching for when they arrived at your site. It is not a bad thing to see lots of search hits for your business name – that means you have built your brand. But it is much better to see more generic key words about your industry or products. That means that people who don't know you specifically are finding your site as they search for your what you offer.