On the Internet, content is king. If you want to be ranked in the search engines, the best thing you can do is put original content on your website.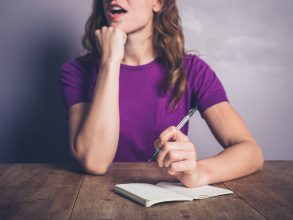 We often have existing or potential customers get very enthusiastic about generating content for their site as we extoll the virtues of doing so. And they often follow their content generation plan very religiously . . . for at least a week or two. But then other bright shiny objects grab their attention and they wander away from their schedule. Sometimes they never return.
Everyone can write, right? Sure we aren't all the best spellers or best grammaticians. But who knows your business better than you? So it can't be that hard to write a few lines of content. Or maybe you love to write. You can easily fill page after page about what you do.
But is your content web-ready? Is it optimized for search? Have you considered the placement of key words and key word phrases? There are a myriad of web specific things to understand and implement into your web site content.
Is it in a web-friendly font?
Is it broken up into digestible chunks?
Do longer paragraphs have visual cues to help readers quickly grasp the main points?
Have you used headings?
Have you used subheadings?
What is the call to action in your text?
How much information is too much?
Will your content look good on mobile devices?
How much information should you include so search engines can properly index your page?
Are there any visuals you can use along with your text to illustrate key points?
Did you actually use any of your key words or keyword phrases?
Does your keyword phrase appear in the first paragraph of content?
And the list goes on . . .
And what happens if you don't consider any of these questions?
Most likely your site will be lower in the search rankings than you would like. Most likely you will attract fewer visitors. Most likely the visitors that you do attract will not be as meaningfully engaged as you would like. Most likely your site won't perform for you. It won't help you grow and attract new business. It won't help you engage existing customers. And then you'll blame your web design team for building a poor site.
Don't get in trouble with your content. Instead, turn to someone who gets content and understands how the web works. If you choose not to have us do it, choose someone who is well-qualified. If you do choose to work with us, contact us today to get started.