This morning our little part of the world was recovering from a brief snowstorm. As I left the building for a client meeting and again as I returned to my office, there were people (different folks each time) standing at the door talking. I noticed it because the atrium was getting cold as they stood there, door ajar, discussing whatever it was they were discussing.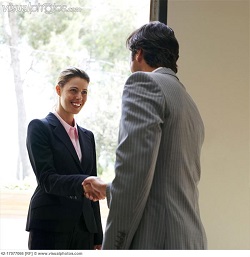 But it got me thinking about transition points. When you leave a room or a building, it is a transition point. And something catches your attention which is why folks often stop to talk right then. Visiting a web site is a transition point. For most of us, we've been engaged in a different activity but now we are suddenly looking at a web site – perhaps it is your web site.
This is the opportunity for us, as web site owners, to have a conversation with the visitor. To engage them and help them understand what is in store for them as they move deeper into the site. In my experience above, the change in temperature was something that caught the attention of folks and made them stop to talk.  What is your site doing or what should it be doing at this key Transition Point?
One mistake that many website owners make at this point is to show lots of pretty pictures without asking the visitor to step deeper into the site. These are the "sliders" or rotating images that make up the top part of so many web sites. Site owners love them because it is such a great way to showcase all the great features of their product or service. The only problem is visitors are usually not looking for features, they're looking for benefits.
Transitions present opportunities. To take full advantage of the opportunities presented, we, as website owners, need to carefully consider what our visitors want. No matter what your business is, a great way to understand what your web site visitors are looking for is to ask your existing customers. What benefit do you get from our service / our product / working with us? Use what you learn to redo your front page and possibly to redo your site structure.
The conversation need to continue to change (your front page needs to change over time) in order to keep engaging people as they come through your door (enter your site). We have a customer whose site brought in 45% more revenue the first year we redid it. But as we have continued to make changes, it has averaged more than 20% increase in revenue each year. The key to success is to grab the visitor at the transition point and engage them. Then just keep moving them along until you've successfully won their business.